FindTheTin.com is a treasure hunting game of sorts... We've hidden a tin somewhere in your area. If you find the tin, you get the treasure. Do you think you can be the first to find it?
The prize changes from hunt to hunt.
Sign up to play. All you have to do is sign up using the quick form, and then be sure you follow any other step, which can change from hunt to hunt, to become fully qualified.
Every other day or so, we will post a new clue on RadRenter.com. RadRenter.com is the main sponsor for the game.
Follow the clues, find the tin, win the cash.
Make sure you follow the Rules.
Go to the Sign-Up Page to see the current prize amount.
We like to think there's a little treasure hunter in all of us.
We know that everybody would love to find the tin, to win the cash. Our hope is that you have a great time figuring out the clues and looking for the tin, whether you find it or not.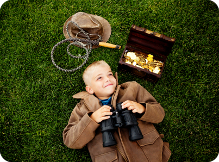 We think it's a great way to spend the afternoon, do something different for a date, exercise your brain, compete with your roommates, spend time with the family, or just get outside and enjoy the day.
Share the fun! Click on the Facebook icon below to share us with your friends, or choose any other of your favorite social media sites.